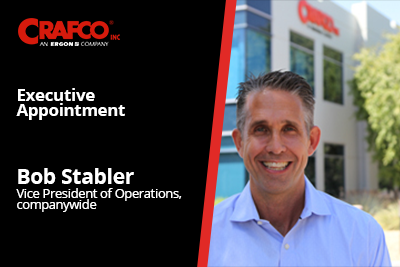 On January 1, 2021, the senior leadership team of Crafco, Inc. proudly announced the appointment of Bob Stabler to Vice President of Operations, company-wide. Most recently, Stabler was Vice President of Operations for Crafco Equipment, Supply Centers and Coatings.
"Bob's accomplishments and achievements in overseeing the equipment, supply centers and sport court operations are substantial, exceptionally strong and worth celebrating," stated Don Brooks, President of Crafco. "The entire senior leadership team and I look forward to Bob's continued leadership in managing all Crafco operations," he added.
Stabler holds over 20 years of experience establishing winning cultures founded on people, processes, systems, and analytics for some of the world's most recognizable organizations. Prior to being named Vice President of Operations company-wide, Stabler served as Crafco's VP of Operations for Equipment, Supply Centers and Coatings from 2019 to 2021, overseeing the company's supply chain, and identifying value-enhancing synergies and efficiencies.
Before joining Crafco, Stabler was General Manager at Kaiser Aluminum, a producer of specialty aluminum products for the transportation and industrial markets. During Stabler's 11-year tenure at Kaiser Aluminum, he was instrumental in driving both revenue increases and cost reductions, improving plant performance and demonstrated expertise and servant leadership in operational safety, customer satisfaction and culture transparency. Additional successes and achievements were earned at Goodrich and Ford Motor Company.
"When I think of leadership, the individual is always the first thought that comes to mind. While it is an honor to be recognized with this appointment, I would be remiss in not appropriating proper gratitude and genuine appreciation to the many talented and dedicated individuals who continue to meet the dynamic challenges and demands of our time by manufacturing, promoting, and supporting Crafco equipment and materials," said Stabler. "I look forward to continuing the important work within this critical infrastructure as Crafco's next Vice President of Operations," he added.